GREVATT, George William
George William Grevatt (1896-1976)
I was contacted by Maureen Grevatt whose husband, Michael, is the grandson of George William Grevatt, a former station master at Lyghe Halt.   Michael has a photo of his grandfather leaning on a sign of Lyghe Halt station in his station uniform as well as the gold watch that the railway gave to his grandfather on retirement.
George Grevatt was born in 1896 at Redhill, Surrey, the son of William Humphrey Grevatt and his wife, Alice Jane (née Wilkins).  He was one of several children.[i]
From a newspaper article sent to me by another granddaughter of George, we also know something about his wartime experiences.
"Surrey and the War.
Military Cross for Redhill Boy
As reported last week the Military Cross has been conferred on Pte G Grevatt, East Surrey Regt., son of Mr and Mrs Grevatt, 80 Monson-road, Redhill.  Pte Grevatt, writing to his mother, says: "I have just had the Military Medal presented to me on the 16th of this month, but it was nothing particular that I did.  I only succeeded in getting communication through from our battalion to brigade under barrage when Fritz made a counter attack on us, and drove us out of a village; but he did not have it for many hours, as we made a counter attack and drove him back again, and captured 50 yards more of his trenches, so that you can see he did not gain any advantage over us there."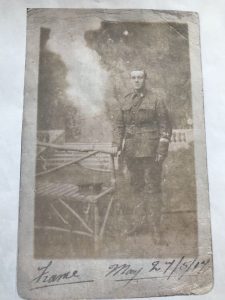 After the war, George married Harriett Elizabeth Jeffery at Dover in 1919[ii] and at some point the family moved to Leigh.
The spelling of the name Grevatt varies[iii] and he is mentioned in Chris Rowley's book "We Had Everything . . . " as George Gravett, when Harry and Jack Lucas refer to Lower Green as Station Road or Halt Road and that the station had been run in a very different way in those days.  "For one thing, it had a station master, George Gravett – or rather he was the station master, porter and signalman and he lit the gas lights into the bargain.  He was there for years.  It must have been from around 1920 to about 1960.  If you wanted to go on holiday, you'd ask George to collect all your baggage and he'd come along with his bicycle and wheel it along with the cases on the handlebars all through the village for sixpence.  He had a special use for his trolley too.  You know the kind – with long handles and two wheels with a metal front bit.  If a lot of people got off a train, he'd use it to make people go through the barrier one at a time so he could take their tickets by lowering it up and down between each of them.  In those days a ticket from Leigh to Tonbridge was five old pence return and then it was fourpence single from Tonbridge down to Tunbridge Wells.  The majority of people used the train – not many went by bus …".  Also June Chadwick (Mrs June Smith) recalls  "I remember Mr Gravett, the stationmaster in Lower Green: he was always on his bike and he was always hurtling down the road, trying to catch the train to sell the tickets but he was usually too late: people had to buy their tickets at Tonbridge."
In the Kent & Sussex Courier of 20 April 1934, George Grevatt of the Green, Leigh is mentioned.  He had been summoned by Florence Burchett for common assault, and Florence Burchett was summoned by Harriett E Grevatt for similar offence.  Mrs Burchett had lived in part of the house occupied by the Grevatts at The Green for the past three months and the two parties occupied part of an orchard.  There arose a dispute on 11 April over some dirt, or ashes, and apparently Grevatt had hit Mrs Burchett on the side of the face.  George Grevatt, in his defence said the ashes referred to belonged to him and on 11 April he went into the garden and saw Mrs Burchett shovelling the ashes.  He told her he wanted the ashes.  Mrs Burchett used obscene language and said she would brain him and then she hit him on the thigh with the spade.   She then pushed Mrs Grevatt, who had come out.  George Grevatt, a porter, said "that in 24 years' service he had never had a complaint made against him."    Mrs Kate Elizabeth Faircloth of Leigh stated that her house overlooked the gardens of the two parties concerned.[iv]    On the particular morning she heard someone quarrelling and saw Mrs Burchett push Mrs Grevatt.  The case against the Grevatts was dismissed and Mrs Burchett fined £1.
On looking at the 1939 Register[v] I found George Grevatt now living at Mansfield, in Green View.  This is the entry:
George W Grevott (sic)  7 Jun 1896   Halt Keeper, Southern Railway
Harriett C Grevott   5 Mar 1900 housewife
George E J W Grevott   27 Dec 1922   Store Keeper Motor Works
William H Grevott   5 Feb 1869   retired general labourer  widowed
There are other people at this address, but their records are closed so assume younger aged children.
The memories of Tony Hicks – who contacted the Society recently – also recall George Grevatt.   Tony says he remembers "a character" by the name of 'Grevatt' – he was the station master/porter at Leigh Halt – "he was always there to greet us as we arrived or departed from the station.  He was a real jolly nice chap, always with a friendly quip."  Tony recalls that George Grevatt had to retire after being sent down the line and finding the body of a lady who had decided to take her life.   However, on passing this information on to Maureen Grevatt, she says that her husband cannot recall a mention of this incident, but, of course, it could have been something that his grandfather never wished to talk about.
George Grevatt died in 1976 and his death is registered at Tonbridge.
Any other memories of George Grevatt, please contact the Society.
Joyce Field  (August 2018)
Sources:  We Had Everything . . .  by Chris Rowley
Memories of Tony Hicks
Also see notes below.
[i] 1911 Census at 80 Yonson Road, Redhill, Reigate Surrey
William Humphrey Grevett  head   42 b. 1869 b. Burgess Hill   plate layer
Alice Jane   wife   41  b. 1870  Surrey Byfleet
Daisy Elsie Alice Grevatt   single  17 b. 1894  Surrey Redhill   Mother's help
George William Grevatt   son  14 b. 1897  Surrey Red Hill  signal lad
Florence Nellie Gravett   12  b. 1899 Surrey Red Hill
Wilfred Walter Grevatt   10  b. 1901 Surrey Red Hill  scholar
Arthur Frederick Grevatt   8  b. 1903  Surrey Red hill  school
Reginald Allen Grevatt   5  b. 1906  Surrey Red Hill  school
Mildred Ada Grevatt   5  b.1906  Surrey Red Hill  school
Lesley Maurice Grevatt  son   3  b. 1908  Surrey Red Hill
[ii] George Grevatt married Harriett Elizabeth Jeffery on 4 August 1919 at Charlton by Dover, Ss Peter & Paul.  He is 23 and she is 19.  His father is William Humphrey Grevatt and her father is
John William Jeffery.  The groom's parish is given as Holy Trinity, Redhill, Surrey and the bride's parish is Charlton in Dover.
[iii] It is written as Grevatt, Gravett, Gravott in various records.  I have used Grevatt as given to me by the family contact, Maureen Grevatt (unless quoting from a source)
[iv] Kate Elizabeth Faircloth lived at No. 3 The Green (which then formed one half of Old Wood Cottage).  Therefore, in 1934, the Grevatts lived nearby, although they would not have been living at No.1 and 2 the Green as these were "alms houses" and No. 4 The Green (the other half of today's Old Wood Cottage) was occupied by a Mrs Grant from 1930-1936).  They are not named in the Hall Place Rent books so were not living in a cottage owned by the estate.
[v] Found at FindmyPast website:  1939 Register