BAILY family of Hall Place
The BAILY family owned Hall Place from 1820 to 1870.
Detail about the background of the family and their time at Hall Place can be found in Lawrence Biddle's book "Leigh in Kent 1550-1900" Chapter 15.  Below is a family tree based on information from the book and subsequent findings.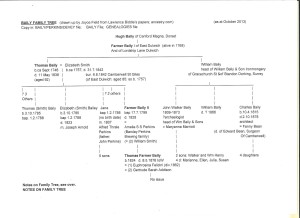 The information that follows is from genealogical searches on various websites undertaken by Joyce Field in 2014.  Please contact the Society if you have further information to add on the family.
FINDINGS FROM ANCESTRY (also looked at FindmyPast and Family Search)
Marriage Bond/Allegation (licence):
Thomas Baily of Parish Saint Mary Lambeth Ironmonger and
Elizabeth Smith 18 April 1787
Actual Marriage:
Parish Register of Lambeth St Mary gives:
24 April 1787, Thomas Baily a bachelor, Elizabeth Smith a spinster of the parish: married by licence: in presence of John Gale and James Singleton.
(n.b. could neither Gale nor Singleton marrying a "Smith" at Lambeth – so do not know connection).
 BAPTISMS OF CHILDREN TO THOMAS/ELIZABETH:
There are 10 children being baptized at St Mary Lambeth to a Thomas/Elizabeth Bailey between 1779 and 1799.  Thomas/Elizabeth did not marry until 1787 (by licence, although no age was given on licence, nor the word 'minor' used to refer to Elizabeth), although two of their children are clearly noted as born 1785 (ie. out of wedlock).  Thomas Baily was born 1746; Elizabeth Smith was born ca 1757 (according to her death entry, although 1761-66 according to 1841 census).  So possible for children to have been born as early as 1779.  There is also the baptism of another Elizabeth 16 Dec 1787 (after the birth of Elizabeth 3 Oct 1785 and before her baptism Feb 1788).  This is causing confusion and leads one to believe that perhaps there were two couples Thomas/Elizabeth having children at that time.
To date have not managed to discount any of the children as being of "our" Thomas and Elizabeth, nor (with the exception of four children: Thomas 1785, Elizabeth 1785, Jane 1788, Farmer 1799) can I prove the others are of Thomas and Elizabeth.  If they had two children out of wedlock, why not the four earlier baptized children, Thomas, Sarah M, George, Elizabeth?  And there are Mary Ann and Sarah baptized 1790, 1792: without these two baptisms, there would be a large gap between Jane 1788 and Farmer 1799.  (The duplication of Christian names also makes one assume possible early death of a couple).
With the records currently available to search on-line, I have looked at St Mary Lambeth, plus St Giles Camberwell, I can find no marriages of the other six children.  Burials online are currently only 1788+ for St Mary Lambeth:  searched 1788-1793 and could find no 'correct' Baily children; plus also searched the index and there were no children corresponding, having died young.  Could also not find marriages for any of them at Lambeth or Camberwell.   Of course, they could have married elsewhere; or been buried elsewhere, except that baby Farmer Baily was baptized 1799 at St Mary Lambeth, so would assume any burials would have taken place there too.
CHILDREN BAPT AT LAMBETH ST MARY TO A 'Thomas Baily/Bailey and Elizabeth':
Thomas Bailey 19 Dec 1779, son Thomas/Elizabeth  (no burial, but burials on-line from 1788 only)
Sarah Mary Bailey bap 15 April 1781   d. Thomas/Elizabeth   (no burial, but burials on-line from 1788 only)
George Bailey bap 11 May 1783, son Thomas/Elizabeth   (no burial, but burials on-line from 1788 only)
Children bapt. At Lambeth St Mary: after April 1787 marriage:
Elizabeth Bailey bapt 16 Dec 1787 (no birth date)*    (no burial, but burials on-line from 1788 only. Did she died 16 Dec-31 Dec?)
Thomas Bailey  bapt 1 Feb 1788, born 3 Oct 1785 out of wedlock
Elizabeth Bailey bapt 1 Feb 1788, born 3 Oct 1785* out of wedlock
Jane Bailey bapt 1 Feb 1788 (but no date given, so not a triplet)
Mary Ann Bailey bapt 5 May 1790 (no birth date)   (no burial/marriage found)
Sarah Baily,  6 April 1792 (no birth date)    (no burial/marriage found)
Farmer Bailey 17 July 1799 (no birth date given)
We know from marriages that Thomas Baily and Elizabeth definitely had four children:
Elizabeth (Smith) Baily (1785)
Thomas (Smith) Baily (1785)
Jane Baily (1788)
Farmer Baily (1799
Found a burial: Mary Baily (not Bailey) at Camberwell St Giles 14 Aug 1797 (no age given)
MARRIAGES
Camberwell, St Giles
Elizabeth SMITH Baily and Joseph Arnould
By licence  6.9.1811
Presence:  Mary Farmer, Thomas SMITH Baily, Thomas Baily, E Baily
(So both Elizabeth and Thomas – born before marriage and baptized Elizabeth/Thomas Baily:  at some point they must have decided to add the SMITH name)
Southwark St Saviour
Jane Baily of St Giles Camberwell and Alfred Thrale Perkins, church by licence with consent of Thomas Baily her natural and lawful father, 30  June 1807, in presence of:  Thomas Baily, John Perkins, Henry Perkins, Charles Banley, Eliz Baily, Amelia Perkins.
1841 CENSUS Goose Green, Camberwell
Elizabeth Bailey  80  indep   NO  (so aged bet. 80 and 85, so born between 1861 and 1866)*
Elizabeth Stevens  35  F.S.
*(we do not know where Elizabeth was born: census says NO – not born county – so not born Surrey, and maiden name Smith would make it virtually impossible to locate without further information.  Marriage was via Bond/Allegation but no age given, also did not say 'minor':  age found at burial entry for Camberwell St Giles of Elizabeth Baily burial, "of East Dulwich", aged 85. )
Parish Register of Lambeth St Mary gives the marriage:  24 April 1787, he a bachelor, she a spinster of the parish: married by licence: in presence of John Gale and James Singleton.   (n.b. could find that neither married a "Smith" at Lambeth – so do not know connection).
Will 5 Sept 1876 (effects under £8000)
Will of William BAILY died 24 June 1876 Standen, proved by Charles Baily and Henry Baily, the brothers and Walker Baily nephew of Denmark Hill and William Henry Baily nephew of 71 Gracechurch St
So William Baily had brothers John Walker (d.1873), Charles d. 1878 and also Henry Baily of 71 Gracechurch Street.  (The two nephews are sons of John Walker Baily).
Will of Thomas Baily 1838, probate 11/1896/515
Died Camberwell 1838 (source via sjmacintosh** on ancestry.com).  We DO NOT have a copy of the WILL.  It would be useful to clarify what children were still alive in 1838.
Will of Thomas Farmer Baily died 8 May 1876, Will 15 July 1876
effects under £30,000
Other findings:
Elizabeth Baily died Camberwell 31.7.1842: buried St Giles:  of "East Dulwich" aged 85, buried 9 Aug 1842 (this gives birth year of 1757)
Thomas Smith Baily died 22 Mar 1819:   (source: ancestry via SJmackintosh** (descendant))
Marriage:  Farmer Baily esq and Amelia Carolina Sophronia Perkins by Licence 23 Dec 1822, witnesses:  Henry Perkins and A G Perkins
Death of Thomas Baily given in Evening Standard 19 May 1838:  Death 11 May of Thomas Baily of East Dulwich aged 92.
Wills:  of Hugh John Baily dated 23 Feb 1753 Dorset: Wills in the Peculiar of Gt Canford & Poole from 1650; Archdeaconry Court of Dorset of the late Diocese of Bristol 1660-1792.
Baily, Hugh 23 Feb 1763, 16 Dec 1763 John, son.  (Will available to order on line)
FindmyPast has DORSET parish registers:
Hugh Baily, son of Hugh/Mary bapt 27 Oct 1738 Canford Magna
Hugh Baily, son of Hugh/Mary bapt 26 Mar 1809, Canford
Search finds no Thomas/Farmer born at Canford, or elsewhere in Dorset at relevant time.
FamilySearch:  cannot find any of the earlier Bailys being baptized Dorset or London, prior to Thomas Farmer Baily son of Farmer Baily/Amelia.
Of course, this could just mean that the records are not available on these websites at the moment.
**(SJMacintosh found in member's trees on Ancestry as researching Baily.  Have not made contact ).