Golden Years Club
Leigh Golden Years Club
The following photograph was sent to us by Margaret Pyle, a descendant of the Fitzjohn family.  Margaret has also given us some of the names from the picture and a little information on some of them.  However, if anyone recognizes other faces in the picture, do please contact the society.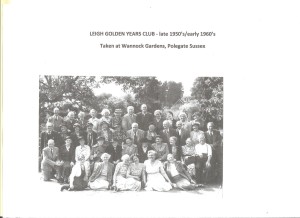 Left to Right:
Back Row:   7th person: Mr Fred Maddocks; 9th person: Mrs Jack Brooker
3rd Row:    5th person: Mrs Kate Faircloth:  7th person:  Albert Charles Humphrey; 11th person: Mrs Emily Fitzjohn (with dark hat)
2nd Row:    9th person: Mrs Alice Maddocks; 11th person: Mr Aubrey Wells
Front Row: 2nd person: Mrs Gwen Faircloth; 5th person Mrs Margaret Wells; 6th person: Mrs Ethel Ingram
Some further information about the people named above:
Mr and Mrs Maddocks were neighbours of the Fitzjohns at Stone Cottages and lived in Rose Cottage, after the Hounsom family, and then moved into Charlotte Bungalows (when they were built, the one nearest the road.  Fred Maddocks died in 1973 and Alice in 1963.
Mrs Jack Brooker lived in one of the old cottages that were demolished to build Saxby Wood.  In the family she was know as Mrs 'Penny' Brooker.
Mrs Kate Faircloth was the wife of Fred Faircloth.
Mrs Gwen Faircloth was the wife of George Faircloth and lived in 'The Cottage' in the High Street opposite Charlotte Bungalows.
Mrs Margaret Wells was the wife of Stan Wells, one time the village butcher.
Mrs Ethel Ingram was the wife of Charlie Ingram from Oak Cottage.
Added by Joyce Field, from information received from Margaret Pyle 3.2.16
In addition, further information received gives Albert Charles Humphrey in the 3rd Row (7th from left).  He was an estate carpenter at Hall Place and his family moved to Leigh about 1911, living at 2 Waterworks Cottages, Kiln Lane.  (Information received 20.8.16 from Jennie James, granddaughter of Albert C Humphrey).
A further photo received by Jennie James of the Golden Years Club – date not given:
In the back row, fourth from left is Elsie Ruth Woodhams (nee Humphrey) and the two at the end of the back row are Dorothy Mabel Passmore (nee Humphrey ) and Albert Charles Humphrey: both are daughters of Albert Charles..
+++++++++++++++++++++++++
Another photograph below was also received from Margaret Pyle in May 2016.  It was taken on a Golden Years outing in the early 1960s.
Entitled – the Wilkins Sisters.  On the left is Phoebe Card, the wife of Will Card, a bellringer at Leigh, who lived at 7 Garden Cottages, Leigh.
On the right is Emily Fitzjohn, wife of Fred Fitzjohn, of 1 Park Cottage, Leigh.
+++++++++++++++++++++++++++++++++++++
Another photograph from Margaret Pyle received May 2016.  On a Golden Years Club Outing ca. late 1950s/1960s: