Penshurst Entrance Lodge: Pinnacle/Pepperpot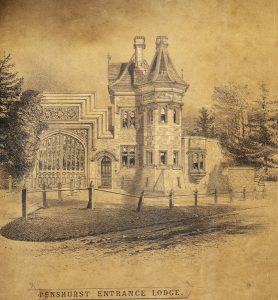 The above picture is taken from the front of the 1870 Sales Particulars.
This lodge house formed part of the Hall Place Estate.  It is described in the 1870 Penshurst Sales Particulars as a highly ornamental building, built of red and black brick, with Bath Stone dressings and tower, lofty imposing embattled entrance archway of brick and sculptured stone, with coats of arms and gothic ornaments and entrance gates.  The lodge contains 3 rooms with wash-house etc.  (The quantity is included in the park)  Estimated rent £6 per annum.
From the 1870 Sales Particular map you can see that at one point the drive approach to Hall Place ran across the south front of the old house to a gateway at Pinnacle Lodge which was built at about the same date as East Lodge (1852).  Pinnacle Lodge replaced an earlier lodge (shown on the 1841 map) which was about 150 yards further east and on to which the line of the drive can still be traced in the park.  As well as Pinnacle Lodge it is also known as The Pepperpot and, according to the above, at one point Penshurst Entrance Lodge.   Following the building of West Lodge ca 1875/1876, in 1906, to mark the coming-of-age of his eldest son, Samuel Hope Morley moved the disused gateway shown above and re-erected it at West Lodge: according to Lawrence Biddle, the new West Lodge at one point became known as Penshurst Lodge, being on former Penshurst land.
Joyce Field (Jan 2016)
Sources:
Leigh in Kent 1550-1900: Lawrence Biddle
1870 Hall Place Sales Particulars