Andrew, Drury and Herbert, 1769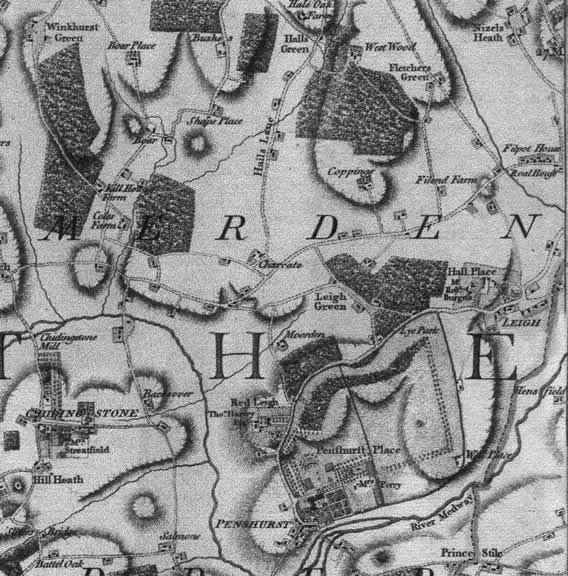 This is a map of the whole of Kent on a scale of 2 inches to the mile. The map is in 24 sections and the parish of Leigh is on the margin between sections 11 and 12. Reproductions of these two sections are shown.
This map is the first to give an impression of the whole parish of Leigh. The farms which are shown and named are Moorden, Charcate, Ensfield, Ramhurst. Farms shown but not named include Pauls, Barnetts, Cinderhill, Clarks (Home Farm), Leigh Park and Prices. Priory Farm is shown as File End Farm and Ramhurst Mill as Crenhurst Mill, Surprisingly Wickhurst is not shown at all.
This map confirms the evidence of Lady Younge's map with about 5 houses on the south side of the Green and about 8 along the south side of the High Street.
This map shows the names of the owners of the largest houses i.e. Mr Robert Burgess at Hall Place, Thomas Harvey Esq at a house called Red Leigh (Redleaf), Mrs Perry at Penshurst Place and Mrs Streatfield (sic) at High Street House Chiddingstone. Blackhoath Woods are shown very clearly but Prices Farm is shown on a site well to the west of its actual location.
In Tunbridge the five streams of the Medway under the High Street are shown. Though Hilden House is shown there is no village of Hildenborough.