Woods, The
THE WOODS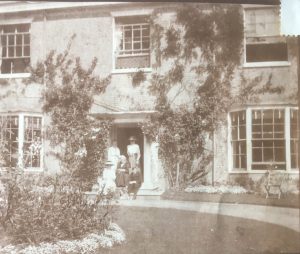 The Woods – a dwelling house, cottage and other buildings plus approximately 8 acres – is situated opposite Home Farm and is  surrounded by what was known as Parsonage Farm (Kennards).
For four centuries the house and land of The Woods had five names:
It was known as Shaws and Waterpitts in the Manor of Leigh Hollandon Court Rolls which defines the copyhold tenure of properties of the Manor, and for The Woods we can see copyhold ownership from 1641 until 1870.
In 1795, the name Owens was adopted by John Osborne, a tenant.
1579 and 1795 the name Shymes was used by the Churchwardens in the 1579 and 1750 assessment on the occupiers of property in the parish for the repair of the churchyard boundaries.
Greenwoods Map 1821 called it Leigh Cottage; Mrs Harbroe's will 1840 referred to it as Leigh Cottage or Woods.  The lease dated 1879 to Mrs Heath referred to it as Leigh Cottage, but her embossed writing paper shows she used the name The Woods.
The house and land are also shown on the 1758 Penshurst Map, which shows the Woods surrounded by Parsonage Farm (Kennards):  the house and its barn are depicted on 1767 map of Clarkes Farm and on Andrews and Drury map of 1769 and in Hasted 1778.
++++++++++++++++++++++++++
The first record we have of the house is the entry in the 1579 list mentioned above, which refers to William Children who is assessed for his tenement and lands called Shymes 10 feet.   William Children resided at Nizels Hoath and was a cousin of the Children of Lower Street.  His son Arthur succeeded to Shymes in 1603.
The Manor of Leigh Hollenden Court Rolls give us evidence of copyhold ownership from 1641 until 1870.  They tell us that on 5 April 1841 aliened of Arthur Children to James Children, his son, was a tenement called Shaws and Waterpitts, containing by estimate 7 acres in Leigh by same services and yearly rent of 7d.
At that time it was let to Edward Perkins.  James Children was his second son b. 1622.   James married Elizabeth Everest of Cowden in 1647:  and in June 1647 James and Elizabeth were living at Shymes.  James died 1648, but a posthumous daughter, Elizabeth, was baptized in October 1648, and James's widow continued to live at Shymes until she married Edward Wood in November 1650.    Shymes was then let until 1659, when Edward Wood and wife occupied it for a year.
We can continue to follow the Court Rolls to see who owned the copyhold:
Court of 15 June 1655: on the death of Jas Children, his daughter Elizabeth was heir.
Court 29 February 1675:  Elizabeth Children married J W Luck, and in her right held the said premises.
Court 19 June 1740: the death of Elizabeth Luck.  Relief was paid and the premises descended to her three sons, James, John and George Luck and her grandson, Thomas Luck (son of Thomas Luck, her son).  George Luck and Thomas Luck, grandson, aliened their 2 fourths to James Luck.  John Luck, when he died, then by his Will devised his fourth to his nephew George Dejovas* and his heirs.  John is seized of one fourth and James Luck of the other three fourths.
Court 11 July 1755: Thomas Ashdown did fealty for one fourth of the property: the other three fourths were vested in Dr James Luck, son of sd James Luck.
Court 14 July 1778, the whole of Dr James Luck's three fourths passed on death to George Luck, his cousin and heir.  On the death of George Luck it was devised to his mother (Sarah Luck) for life, with the remainder to his sisters Mary Luck and Jane Luck spinsters.
Court 25 July 1803, it states that since the last Court,  Mary Luck and Jane Luck aliened the same to Robert Burgess, the Lord of the Manor, of Hall Place,
According to Lawrence Biddle, 'Shymes' remained in the Luck family until it was purchased by Robert Burgess of Hall Place in 1790.
When Robert Burgess died 1794, Shymes was inherited by his widow, Sarah, who then married James Harbroe.  Sarah was one of three daughters of James Farrant of Leigh.  In 1812 she built the Georgian front to the house and signed a brick at the north east corner "S. Harbroe September 1812".  (Bricklayers also put their marks on the bricks SC 1812 and JB 1812).
Sarah Harbroe let the greatly enlarged house, now known as Leigh Cottage, to Mr and Mrs William Saint – her sister (Mary) and brother-in-law.  When she died in 1841, Sarah gave the house to her sister as tenant for life, and then to her niece Emily Catherine May (née Saint) for life, and then to the May children.  The Trustees of her Will ultimately sold it to the First Lord Hollenden in 1915.
To summarize, although we know from the Court Rolls who owned the copyhold of The Woods,  for 286 years from 1660-1946 the house was occupied by tenants, apart from the periods 1795-1812 and 1865-1879, when the occupiers were short-term tenants, there were only three families of tenants:
1660-1795:          the Moody family and John Ashdown (who married Rose Moody).  Shymes a farm in 1750 churchyard boundary list of 9 acres – a small area of land, and so Thomas Moody and son had another occupation as weavers.
1812-1865            William and Mary Saint
1879-1946            Mrs Agnes Heath and her three daughters lived at The Woods.  According to Lawrence Biddle, the last daughter died in 1946.  However, this is not the case.  Florence had died in 1936;  Maud died in 1946 but Edith Heath (married name Hine) did not die until 1960, in Hampshire.    The family were artistic.  Florence Heath painted and Maud Heath taught woodcarving in the village, one of her pupils being Isaac Ingram who carved one of the hymn boards in the church.  Edith Heath also painted and married into the artistic Hine family.   However, Lawrence Biddle also refers to a son who died aged 26 who had gone to the Far East and brought back some very valuable china after the loot of Peking in 1900.  The china was displayed in a cabinet in the drawing room at The Woods and the room was given a black decorative scheme to show it off.    Yet this could not have been a son of Agnes Heath whose only son died shortly after birth in 1862.  Subsequent research and contact with Edith Hine's grandson has revealed that it was in fact the brother of Agnes Heath who brought back this china in the the 1850s.  There is more detail of the fascinating story of Charles Lenox Richardson elsewhere on the website.  Edith Hine's son,  Godfrey Valentine Brooke Hine , who died in the First World War in 1915, is commemorated on a window in Leigh Church following his death in WW1.  More information on the Heath family and the Hine family is  on this website.
Inside The Cottage – The Woods – a painting by Edith Hine, showing some of the China brought back by Charles Lenox Richardson.
The property remained in the ownership of the Hall Place estate until the 1950s.  By a Deed of Discharge dated 7 Feb 1958 by Hon. Claude Hope Hope Morley and Gordon Hope Morley Trustees discharged land in Leigh with dwelling house, cottage and other buildings known as The Woods.  (Epitome of Title)
Joyce Field (updated April 2019)
Sources:
Manor of Leigh Hollanden Court Rolls
Lawrence Biddle: Leigh in Kent 1550-1900
Epitome of Title
*Dejovas name:  there is a Jas Dejovas married to Mary, who had a son, George Dejovas, baptized Tonbridge 1715.  George Dejovas married Elizabeth Ralph in 1734 at London.  George Dejovas died 1740 at Penshurst.
Also Ancestry.com/Findmypast websites.