Old Chimneys (formerly No 1 and 2 The Green)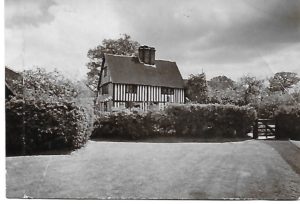 OLD CHIMNEYS  (formerly no. 1 and 2 The Green)
Old Chimneys is a delightful example of a 15th Century half-timbered house which has been extended in recent years.  It overlooks the Village Green.  Known at one point as No. 1 and 2 The Green,[i] Old Chimneys is one of the oldest houses in the village.  It was built as one house with two storeys and later converted into two cottages with the outside rendered.   According to Lawrence Biddle[ii], Old Chimneys – along with Elizabeth Cottage and Gales and Greenways Cottages –  was the property of the Children family in Leigh until 1822 when it was passed to the Penshurst Estate.[iii]   From the 1841 Tithe Map and Schedule, we find Sir John Shelley Sidney listed  as owner of the property: the occupiers of the property, and several other properties owned by Sir John Shelley Sidney in that part of Leigh, are given as 'Lidlow and others'.
It is extremely difficult to determine who tenanted Old Chimneys between 1841 and 1921.  The census is not clear:  from 1841 to 1861 we can guess as follows by the location of a few 'named' buildings:
1841     Old Chimneys:              William Lidlow;   William Upton
 Old Wood Cottage:       William Bennett;   William & Hannah May
1851     Old Chimneys:              William Lidlow;   William Brooker
Old Wood Cottage:       William Bennett;   William & Hannah May
1861     Old Chimneys:              John Lidlow;   Henry Barden
Old Wood Cottage:       James Lidlow;   William & Hannah May
1871:    No buildings are named around the Green area.
From 1881, it is easier because we know that George Simmons and family lived at Oak Cottage on the Green:  Old Chimneys is the next house along:
1881     Old Chimneys:              Thomas Young, bricklayer; Rebecca Ford, laundress
Old Wood Cottage:       Thomas Young, bricklayer; Anna May
1891     Old Chimneys:              Thomas Young, bricklayer; Thomas Brooker, Estate lab.
Old Wood Cottage:       George Young, carpenter, Hannah May, widow
1901     Old Chimneys:              Thomas Young;  Henry Welfare
Old Wood Cottage:       Henry Day; James Page
(next are the 'alms houses')
1911     Old Chimneys:              Fred Martin, roadman; Miss Fanny Welfare, dressmaker
Old Wood Cottage:       Henry Day; Sidney Sharman
(again, next come the 'alms houses')
I have given only the head of household but what is surprising – or not – is the size of the families in these very small cottages, families who also sometimes had lodgers living with them.
In 1921 the Penshurst Estate sold much of its property in Leigh and details and the map  from the 1921 Sales particulars locate 'Old Chimneys' and describe it as "two excellent cottages and gardens" facing Leigh Green and embracing an area of about 1 rod 32 perches.[iv]  One was let to Mr A S Faircloth on a quarterly tenancy and the other to Mr Albert Stubbings on a monthly tenancy.  Each cottage contained two bedrooms and an attic, living room and scullery.  Outside there was a wood store and WC.  There were good gardens.  Company's water and gas was laid on.  However, we do not know who bought the cottages in the sale.
It is only in 1936 that we start to have names of owners.  Richard Card, a draper and partner of F.D. Ibbett, Mosely, Card and Co, an estate agent with offices in Sevenoaks, Oxted and Reigate, purchased No. 1 and 2 The Green in February 1936, although at that point one of the cottages was still tenanted by Florence Burchett and her husband, whom Mr Card was trying to get out: it appears he was successful.  A Press Article from the Kent & Sussex Courier 26 June 1936 explains that "Richard Wm Card, the applicant, had purchased nos 1 and 2 The Green, Leigh in February.  He saw the defendant (Florence Burchett) before purchase and she volunteered to leave the cottage.  He said one of the cottages was now vacant, but he was not prepared to live in it".  The article finishes by saying that   "an order was made for possession in 21 days."
It would be around that date that Richard Card began to renovate the property and convert it back to one house.  However, when the renovation was completed and when Richard (and his wife) actually moved into the house is not clear. An article in the Sevenoaks Chronicle and Courier, dated 19 June 1936 reports the marriage of Richard Card and Constance Bernard (there is a photograph of the couple with this article) and it states that they intend to reside at their 'restored' 15th century house at Leigh Green.  Yet, at the time of the 1939 Register (at Findmypast) – taken on 29 September 1939 – Richard W Card, and his wife Constance are living with the Bullinghams at Forge Cottage.  So perhaps at that time, work on the renovation was still continuing despite the fact that in August 1939, an article in Home and Gardens, reports on "the house after restoration".
The Restoration[v]
Richard Card converted the two cottages back into a single house and exposed the original timber framing, both outside and inside the building.  The Home and Gardens article of August 1939 describes the restoration bringing the house up to the standards of the day – before English Heritage listing restrictions.  The restoration must have started in 1936, the June 1936 Courier article mentions that   "Leslie Hawkins, builder, of Sevenoaks, stated that he was employed by the applicant to do certain work to No. 2 The Green".
Further detail from the Home and Gardens article is given here.  The article describes "Olde Chimneyes" as a timber framed house dating from about the middle of the 15th century.  Its oak timbers were reputed locally to have come from a monastery which once stood in the district.  Whether this is true is not known, but most of the oak had certainly been used prior to its being used in the house.  In the course of the recent restoration (1939), a carved stone gargoyle of an angel's face had been found in one of the old brick bread ovens and this might well have come from a monastery building.
As we have seen, Old Chimneys had been built as a single house but in the 19th century, when it was part of the Penshurst Estate, it had been converted into two cottages and the whole exterior had been stuccoed.  This had obliterating the "black and white" effect.  Much of the interior oak work had been covered over.  The open, red brick fireplaces were built up and grates of the day inserted; some of the original windows had been blocked up and new ones, less picturesque put in their stead.  The article goes on to say that gradually the old house, originally owned by the Penshurst Estate and tenanted until 1921, fell into disrepair, so much so that when it came into the hands of the present owner, Mr Richard W Card, one corner of the structure had sunk more than a foot and needed urgent attention.  When the restoration took place, all the exterior walls were stripped, leaving the house standing in skeleton form.  Many discoveries were made.  The original windows were found and also the beautifully proportioned front doorway, with its carved oak top.  The outside walls were then filled in – lathed and plastered between each upright – and a complete coat of plaster applied on the inside, thus forming a cavity to exclude damp.  The fireplaces were opened up, the colourful early brickwork of the central chimney stack was cleaned.  The upper rooms had oak floors in excellent condition but the whole of the ground floor was of brick.  For the sitting rooms, oak boards of varying widths were used for the new floors.  The article continues that, although the intention was to recreate as far as possible its original character, during restoration the house was also brought up to date (1939) – lavatory basins fitted (covered in oak to resemble chests of drawers) in two of the bedrooms; an up-to-date bathroom and electric lighting were installed with wrought iron wall brackets, with candle bulbs used for the most part.  Despite its age, it was possible to plan the accommodation on very convenient lines.  The ground floor has a dining room 20ft 6incs by 14 ft 3ins; a slightly 'L' shaped living room , 20ft 3ins by 16ft 9ins; a study or den, a cloakroom, kitchen etc.  On the first floor there are three bedrooms, one "L" shaped and measuring 20ft 9in by 17ft 9ins, and a bathroom.  Above that are two further bedrooms.   During restoration, in one of these bedrooms was found a half-finished frescoed ceiling, under various coats of ceiling paper and whitewash.  At the rear of "Olde Chimneyes"  there is a block of cottages (i.e. the newly built Barnetts Road) and, to screen these from the house, a wall of about 10ft in height and 120ft long was erected in old red brick, with a large barn at one end.  The garden is over one acre, with its old quince trees, herbaceous borders, lawns and orchard.
Owners of Old Chimneys
Pre: 1822:   The Children Family of Tonbridge
1822-1921:  Penshurst Estate  In 1921 it was tenanted by A S Faircloth and Albert Stubbings.
Feb 1936: According to Courier 26 June 1936, Richard W Card had purchased it in February 1936.  The Chronicle & Courier article of 19 June 1936, on the marriage of Richard Card and Constance Bernard, the couple's future residence would be the restored early 15th century house at Leigh Green.  (In 1939 Mr & Mrs Card living at Forge Cottage with the Bullinghams)
June 1936:  Florence Burchett and her husband still living in one of the two cottages that made up Old Chimneys but property is owned by Richard Card.
1939:  The Cards sold to Eden and Cecilia Gawne.  (Eden, born 1880, died in 1941 Tonbridge but Cecilia, born 1877, is still there in the early 1950s: according to Civil Registration indexes her death is registered at Cambridge in 1954)
1954:  Bought by sisters Kathleen M Haviland and Norah Haviland. (In 1939, they were living at Folkstone: they also bought what is now Old Wood Cottage from the Hall Place Estate in 1954.  Kathleen died 1973 Worcestershire; Norah died Chelthenham 1983).
1960/1961:  Bought by Mr Robert C and Mrs Rosemary J Edwards who  had two children, Jacqueline M Edwards and Leslie C Edwards
?late 1960s:  Hugh and Joy Potthercary plus three children, Miranda, Nicholas and Sara.
?late 1970s:  Orchard land of the property was sold off to Ted and Heather Maughan as the Pothercarys moved out.
Early 1980s:  David and Jill Wilson and two daughters.  Wilsons completely rebuilt the separate garage.
1998 to date:  Sue and Colin Smith and two children Imogen and Tom.  The Smiths undertook further work on the house – with a modern conservatory-style extension at the back, linking to a covered room/hallway area to the old barn – so that the whole is incorporated into one building.
 Further Recollections of Old Chimneys post 1921
The memories of several former Leigh residents vary as to who owned/lived at Old Chimneys after 1921.
Maurice Martin (see Old Wood Cottage article) says that he thought that by the 1930s, both halves of the cottage were owned by Miss Haviland who had bought Old Chimneys from the estate agent owner, Mr Card, in 1930.  This is clearly inaccurate and contradicts evidence from other sources.
Tony Hicks, in his memories of Leigh in the 1940s/early 1950s (on website) states that his aunt Ada and uncle John worked at Old Chimneys for a Mrs Gawne.
Bob Hinge, in his memories of Leigh, states that his mother (Barbara Hinge, nee Faircloth) was a domestic cleaner Old Chimneys, occupied by three spinster sisters who went by the names of the Misses Gawne.  They either sold the house or died and it was then bought by Miss Haviland who kept Barbara Hinge on as a cleaner.
Joyce Field  Nov 2018
Biblio:
1841 Tithe Map
1921 Sales Particulars
Lawrence Biddle "Leigh in Kent 1550-1900"
Sevenoaks Chronicle and Courier 19 June 1936  (copy in archive, which gives a photo of Richard Card and his wife, Constance Bernard.)
Courier 26 June 1936
Home & Gardens article; August 1939
[i] See The Courier article dated 26 June 1936 where it states that Richard William Card had purchased No. 1 and 2 The Green, Leigh in February.
[ii] Lawrence Biddle Leigh in Kent 1550-1900, p. 135
[iii] The Children family had filed for bankruptcy in 1813 following the collapse of their bank in Tonbridge.  Much of their property in the area would be auctioned.
[iv] NOTE:  rod = 1 quarter of an acre;   perch =   40 sq perches to a rod (160 sq. perches to an acre):  so in 1921 the property stood on land of just under half an acre.  This is mentioned because the article below describes the garden as standing on just over an acre.
[v] Home and Gardens August 1939 article entitled "In the Heart of Kent"