Forge Square
Forge Square was one of Samuel Morley's projects to rebuild cottages in the village. The houses at Forge Square replaced seven cottages previously known as the Row or Great Boydens –  which, according to Lawrence Biddle "Leigh in Kent 1550-1900" p. 132) consisted of a block of three cottages and two semi-detached cottages, which stood on the site at the time and had formed part of the 1870 sale to Samuel Morley.  We have a better description of these cottages in the 1870 Sales Particulars for Hall Place which describe these cottages under Lot 5:
Firstly a pair of cottage dwellings under one roof, with 9 rooms, no. 54 on the plan – which in 1870 was occupied by Richard Tidey (5 rooms) and George Sales (4 rooms);
Secondly, a further detached cottage dwelling situated close to this with 5 rooms, no. 55 on the plan, occupied by William Shoebridge.
Thirdly, a further four cottage dwellings under one roof, no. 56 on the plan, let in four occupations to George Simmons (4 rooms); Thos Batchelor (5 rooms); John Turner (3 rooms); Mr & Mrs Rye (3 rooms)
All these three buildings  can be seen on the Edith Hine picture which has recently been given to the village.  Edith Hine was a daughter of Mrs Agnes Heath who lived at The Woods) and in the 1901 census describes herself an artist/sculptor.  This picture is below and the three separate buildings mentioned which formed the Row can be seen to the left of what would have been the Vestry's charity cottages:
In 1878 Samuel's son, Charles, who lived at Coopers in Hawkwood Lane, Chislehurst, employed Ernest George and Peto as architects to design the new houses (see Lawrence Biddle "Leigh in Kent 1550-1900 p. 87).   When the work was eventually undertaken, these three buildings (consisting seven cottages/households) were replaced by an equal number of cottages in the form of 1-7 Forge Square as well as a separate house known as South View. 1-7 Forge Square would be to house Hall Place employees and South View would be used as a convalescent home for employees of I & R Morley – although according to Lawrence Biddle again (p. 133) the new cottages at Forge Square were built in about 1885.   This would make sense because the pastel picture above s dated 1882.
The five cottages and two flats along the north and west sides of the square which formed the new FORGE SQUARE were designed and built by Sir Ernest George and Peto in about 1885 (according to Lawrence Biddle).  However, they could not have been built until after 1887 as the above picture of the former Forge Row, by Edith Hine, must have been done in about 1887/88 because Edith Hine (nee Heath) married William Egerton Hine at Leigh on 1 October 1887.    They are an L-shaped two-storey range of buildings in Tudor style. The left wing is of coursed freestone and has a double overhung end gable, and is half timbered with plaster filling. The right wing faces the road and has 2 wide gables across a full width, half-timbered and with plaster filling front. Here there is a brick ground floor and a round angle below shingled gable. There are irregular, many mullioned casements, some flat, some bays. There are Tudor-style arches to doorways, some of stone, some of carved wood. There is a tall, ornamental chimney of brick and stone.
Numbers 1-5 are two storey; No. 6 is a downstairs, one-bedroomed flat; No. 7 is an upstairs flat reached by an external, covered, wood staircase. It has a fairly high pitched, gable ended tiled roof. There are ornamental projecting wood-shingled gables, with pierced bargeboards and a 5-light oriel on the inner return of the projecting left range.
No 1 Forge Square was used as the police house in the village at least from the 1920s until about 1952, when the new police house was built in The Green Lane.
On the east side, South View was built about 1890 – completed early 1891.  See separate item on South View.
When originally built, the cottages at Forge Square and South View were all thatched; however, the thatch was subsequently replaced by tiles after 1920.
Over time, the cottages of Forge Square have been sold by the Hall Place Estate into private hands. South View passed into private hands in 1954.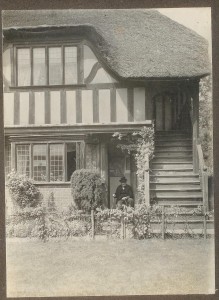 Updated by Joyce Field (August 2017)