Gilbert Nixon
1523772, Gunner, 4 H.A.A. Regt. Royal Artillery. Died 22 April 1942 aged 24. He was in Malta , manning a HAA gun at night when it was bombed. Several of the gun-crew were killed. 'Soldiers died in the Great War' lists 11 service people killed in Malta that day, seven of them were gunners. Buried in Pieta Military Cemetery, Malta.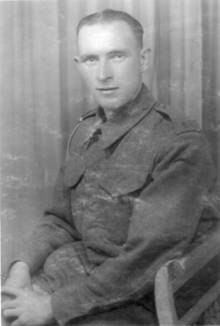 Born in September 1917 in Leigh. The second son of Charles and Elsie Nixon, of Tonbridge, Kent, a family of five daughters and two sons. Gilbert Nixon started work as a gardener then became a baker with the Phipps bakery. His brother had died six months earlier in the war.
He would have become eligible to vote in 1939 on becoming 21. But the electoral registers were suspended in 1938 for the duration of the war. He also died too soon in the war to be included in the 1945 Service Register.
Remembered on Leigh War Memorial.
Last Updated 3 November 2007