Leigh Village Policemen – 1900-1990
"A policeman's lot is not a happy one" wrote WS Gilbert in 1880. But 30 years later, the constabulary duties of Leigh's village policeman gave him little trouble on the crime front. The late Dick Wood recalled: "His very presence was a sufficient deterrent!"
PC Austin, resplendent in knee-breeches and puttees, seemed to spend much of his time cycling around the parish pasting notices to barn doors about sheep dipping and Swine Fever. Dick commented: "He had been known to caution folk about riding bicycles without lights – but big crime, I think, never came his way." PC Austin was still there after the First World War, until about 1921, though sadly some of the youths he had kept an eye on a decade earlier were not…
By the mid Twenties, PC Post had arrived and was living at No. 1 Forge Square – always the policeman's house in that era. The Fautly sisters, Dorothy and Kath remembered him well. One of them recalled the day when, cycling back to Leigh, she had seen a man exposing himself by the railway bridge. Both spotted him later at Tonbridge station. "We told Mr Post all about it. You could tell him everything."
During much of the 1930s, PC Eddie Ginn was the man at 1 Forge Square – "Old Ginn" as his neighbours at No 2 – Harry and Jack Lucas – remembered him. They certainly hadn't forgotten that he used to grow his own tobacco on the allotments, hanging it up by the Forge to dry before rolling it into large cigars.
"Happy-go-lucky, a very nice man," said Joan Coomber, who was born at The Brickmakers Arms. But Doreen Brooker, who was a young girl when "Old Ginn" patrolled the village, saw a different side to him. "Now he was strict. He'd give any of the boys who were up to no good a telling off. The policemen had capes in those days and he'd sort of flick them with it." (Oh dear! He'd probably be facing the European Court of Human Rights or the Crown Court these days wouldn't he?)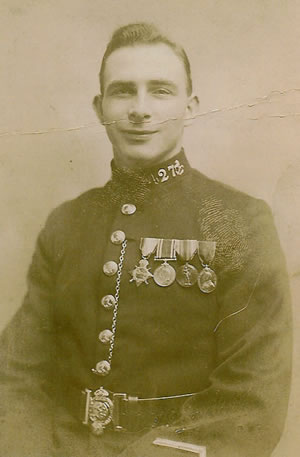 The stout tradition of a clip round the ear was not over yet when PC George Cornelius arrived in about 1937. But soon he was to have more to worry about than apple scrumpers. Soon it would be time to Put That Light Out and listen for the drone of engines in the sky.
George Cornelius was Leigh's village policeman from about 1937 to 1948 – living, like his predecessors, at 1 Forge Square . PC Cornelius knew all about the horrors of war. He had been gassed in the trenches during the 1914-18 war and faced the dramas of the 1939-45 conflict with the villagers of Leigh.
His daughter Kathleen, now living in Tonbridge, talked to Chris Rowley a few months ago and recalled his spell of duty here. She said: "People would call in – the house was really the village police station – either with queries or little things they were cross about, or for forms for sheep dipping and things like that."
"There wasn't much crime in Leigh. I don't remember father even having to deal with drunken fights. All the men drank, of course, and most people had their own particular pub – The Fleur, The Bat or The Brickmakers. They were like little clubs and I seem to remember that father usually went to The Fleur.
"During the war, he had quite a lot to do with bombs and things. There was one well-to-do man … who lived on the Green who used to come across in a rush to say where bombs had fallen or a plane had been shot down."
Kathleen remembered that "a nice man called Bob Baker – he was called 'Snowy' because of his white hair – got a medal for putting out a nasty fire at a house caused by an incendiary bomb. A string of bombs had landed right across the Green and up Green View Avenue .
But there was worse to come for PC Cornelius when a small boy took a bomb into the school to show his friends and it exploded. "My father cradled the little girl who died in his arms. It was very difficult for anyone to talk about."
Policemen were still delivering clips round the ear to naughty boys in those days and PC Cornelius was no exception. "Eric Batchelor told me that father was thought of as a disciplinarian, but he was stern towards his own children too. We were expected to do as we were told – to be seen and not heard as they say. He never talked about work at home. He was a very loyal sort of person who would not have made comments about people – the vicar or Lord Hollenden – and so on, although, of course, he knew them all."
In 1948, he retired, working for a time at Chiddingstone Brickette Fireplaces, before returning to Deal where he had started his police career in the 1920s.
Following him were the two officers who were to be the last of the village's policemen – PC "Steve" Stevens and PC Brian Woollett. It was PC Stevens who finally said goodbye to I Forge Square and moved into the newly built Police House in Green Lane in the early 1950s.
"Things were gradually starting to change in the 20 years we were in the village," said June Stevens, widow of PC "Steve" Stevens, who arrived in 1948. "The police got motorcycles instead of the old push-bikes and eventually there were panda cars. Quite often Steve would have to go and help out at Edenbridge if someone was away – and sometimes he'd be up in Sevenoaks."
Mrs Stevens, who was born June Whitbread in Barnetts Road , met Steve in Frant when she was 15. Later, when she was nursing at the Kent and Sussex hospital, they decided to get married. A police inspector friend of Steve's family persuaded him that the police would be a good career and included free housing in those post-war austerity days when accommodation was scarce.
While they waited for PC Cornelius to find a home and move out of 1 Forge Square , they lived with June's grandmother at the Powder Mills.
June recalled her initial reaction to 1 Forge Square . "I had said that I wouldn't move into it unless it was made a bit better and Lord Hollenden agreed. So lots of things were done. New fireplaces were put in and it was all redecorated. It was a very cold house – with that huge window looking out onto the Green."
But the long police link with Forge Square was coming to an end. In the early 1950s, the Stevens moved into the newly built police house in The Green Lane. His beat included Charcott and the Powder Mills.
June said: "Of course the things that stick in your mind are the unusual things – the awful things. There were three people who killed themselves on the railway line over a period of a few months. There was a builder from Tonbridge, an estate worker, and – saddest of all – a young girl who lived up past us in The Green Lane council houses who had just had twins. She was in her nightie. "Steve was so upset that he nearly had a breakdown. He nearly couldn't go on. But I'd been a nurse, so I suppose I'd seen that kind of thing before, so I was able to help him."
There were more dark memories of her husband's duties – searching for the body of a young boy drowned while fishing near Ensfield Bridge ; breaking the news that the son of a village family had been killed on a motor cycle on Chris tmas Day.
In 1968, PC Stevens went to work at Southborough police station and they lived in Yew Tree Road . June commented: "It wasn't a police house and I missed being part of the community and knowing what was going on."
The policeman who patrolled Leigh longer than any other in the twentieth century was also one of the most recent – PC Brian Woollett – who came to the village in 1968 and still lives here.
He says: I started with the police four and a half years before, based in Tunbridge Wells. I think that I was lucky to get the job in a nice village that soon – usually it was eight or ten years before you moved to a village."
He was attached to Edenbridge police station and recalls: "I knew Leigh to drive through but I didn't really know the village and I didn't know the smaller roads from Leigh to anywhere. That first night it snowed heavily and Lyn, my wife, looked out and said, 'there aren't any street lights – I can't live here!'. She had been born and brought up in Tunbridge Wells. But she soon got to like the village."
To begin with, PC Woollett mainly patrolled at night around a wide area, including Leigh, Edenbridge, Speldhurst, Southborough and Langton.
"So when I arrived – based in Edenbridge and not so much at Leigh and with a motorbike or even in one of the new patrol cars, people in Leigh felt they had lost something – even if I did live and work quite a lot in Leigh."
One of his most frequent jobs was rounding up boys who had absconded from Swaylands, Knotley Hall or Hever Warren. "What would usually happen was that a master would take ten of them or so on a nice walk and find two of them had disappeared. So he'd send the other eight off to find them and then he's have ten absconders! We usually found them all – and it was good for our crime clear-up figures!
"Dealing with the lads in your own village is one of the things village policemen have always had to do. Normally there's no great harm in them. But the days of giving them a clip round the ear and a good ticking off had long gone by the time I arrived. Sometimes there wasn't much you could do except perhaps go and have a quiet word with the parents."
PC Woollett retired in September 1993. Looking back, he says: "The people and the feel of the village are still fairly the same, although I sometimes wonder if there is as much community spirit as there was – or even as much as there is in Penshurst today. When I arrived in the village there were always lots of children on the Green after school. Nowadays there are hardly any. They are all at their computers, I suppose…"
Parish Magazine Articles: Jan/April 2006: by Peter Willoughby