FARRANT Family Tree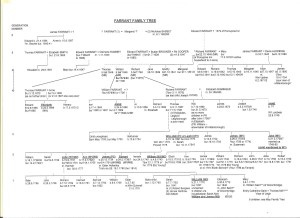 NOTES to Farrant Family Tree:
In bold and underscored are those named in the three Wills:
W1 = ANNE Farrant's Will of 1749 (by relationships named in her Will Anne would have to be the daughter of Richard Farrant/Elizabeth Ruminger: However, unable to find her in Parish Register Transcription unless the original entry was illegible or she was baptized elsewhere.  Alternatively, she could be Anne, daughter of William Farrant (wife not known, possibly Anne) – and the relationships given in the Will would in theory be incorrect according to our interpretation of relationships, although they would have still been quite close relatives: but it is not unknown in early generations for relationships to be defined differently than they are today).
W2 = William Farrant's Will of 26.7.1770; proved 10 Feb 1775, cordwainer, parish clerk of Leigh
W3 = William Farrant's Will of 1832 (proved 1837), of 48 Upper Rathbone Place, painter and glazier, owner of property in Leigh
All entries from Leigh Registers unless stated.   b = baptism; bur = burial; m = marriage, using:
Colyer Ferguson Parish Register Transcription:  as no ages given at death in early registers, it is difficult to determine who is who at burials with so many similar names, hence various dates given.  Pre-1752 years in old style, when the new year commenced on Lady Day 25 March: hence double years for months Jan-Mar in these earlier registers.   Colyer Ferguson transcription used for majority of above with few later burials from Leigh burial index.   There are no Farrant entries in the post 1813 baptism and marriages.
MR – refers to Manorial Roll of the Manor of Leigh Hollanden
LB = Lawrence Biddle, from his researches.  Author of Leigh in Kent 1550 to 1900
PC = Parish Clerk
Uncertain line of descent: ………………… ..
Generation 4: the 3 connecting lines are the possible connections to the children of Richard Farrant and Mary (generation 5):  however, their baptisms are not found on the Colyer Ferguson transcript: either due to illegibility or they were baptized elsewhere.  But there are possible burials in the parish registers.
* From the Manor Court Rolls we are given four sons of Richard FARRANT on whose death in 1646 held property as copyhold of the Manor of Leigh Hollanden at a yearly rent of 7d.  On his death the property passed under the custom of gavelkind to his four sons in equal shares:  they are named in the Manor Court Rolls as Thomas, William, Richard and Godfrey (listed in that order, so would assume this followed their order of birth).  In the parish register transcription, only Godfrey's baptism is found: the early nature of these baptisms probably means that they are illegible or pages missing, but one would need to see the originals to confirm.  But Colyer Ferguson does indicate some illegibility in the early registers
** Further information about the SAINT family and their connections with Groombridge Place can be found in the Leigh Archives
***  Further information about the MAY family can be found on the website and the Leigh Archives
Joyce Field (as at 2.11.2015)