1810 Plan for Proposed Grand Southern Canal
This map is part of a survey made by John Rennie (1761 – 1821) for a Canal connecting Chatham via the Medway to Tonbridge and then by canal to Portsmouth . This would connect the two largest naval bases in the south east of England and would pass through heavily forested areas and so improve the supply of timber to both bases. In 1810 warships were still built of oak.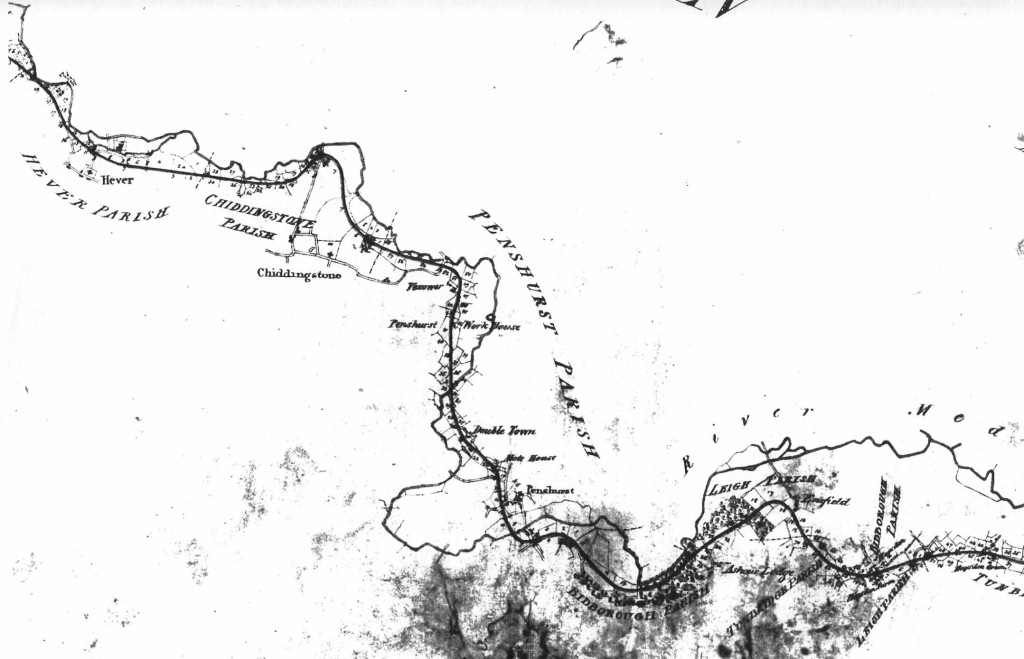 The survey was made in great detail and the map, which accompanied the report, shows that the canal left the Medway at Tonbridge and there were six locks, which raised the level of the Canal to about 20 feet above the level of the Medway valley. It then followed a level contour route via Ensfield, Tapners cottage and through Ashour Woods to Penshurst where it crossed the river on a viaduct. It then followed the Eden past Doubletons, Vexour and Chiddingstone Mill to Hever where there was another lock. This section is shown in the map exhibited.
The part of the map not exhibited goes on to show how the canal reaches Portsmouth via Edenbridge, Copthorne Common, Crawley, Horsham and Pulborough and then south by Amberly and Arundel and west through Chichester, Emsworth and Havant to Portsmouth.
The map exhibited shows not only the line of the canal but each field is numbered and the accompanying report gives the name of the owner. In Leigh 27 fields were affected of which Sir John Shelley Sidney owned 16.
By the time the survey was completed the Napoleonic threat had subsided and no part of the canal was ever built.