Leigh Prosecuting Society
LEIGH PROSECUTING SOCIETY
A parish constable had been part of local village life for centuries.  From 1572 the Vestry elected its parish constable who was paid by the parish.  He was responsible for maintaining law and order, arresting those committing crimes and bringing them to the courts, and also for removing vagrants or paupers and supervising alehouses.  The 19th century began to see changes, particularly as the population grew.  The industrial revolution saw people moving from the countryside and rural communities, such as Leigh, were affected by agrarian changes which had resulted in increased rural unemployment.  The Metropolitan Police Force of London was formed in 1829 and in 1835 Boroughs and 1839 Counties were empowered to create local forces, but only in 1856 were they required to do so.
In the Leigh Archives there is a folder entitled the Leigh Prosecuting Society[i]. From the papers we have, we do not know when the Society was founded[ii], but it is existed from at least the mid-1830s and was dissolved in 1856[iii].    Perhaps with the economic changes mentioned above, along with changes brought about by the 1834 Poor Law Act[iv], with increasing vagrancy and possibly crime in the area, the well-to-do of the community took it upon itself to act.  Looking at the Vestry minutes (1823-1844) there is no mention of a parish constable for Leigh, a role usually appointed by the Parish, but there are several parish officers appointed for whom no role is assigned and reference to Constables do appear in the Leigh Prosecuting Society Account Book; and in 1852 Richard Crandall is described as Constable (see below) so the role did exist – perhaps the Leigh Prosecuting Society was established to undertake this role and encourage the apprehension of wrongdoers by means of Rewards offered or anticipated.
The Society operated on a membership basis, with an entry fee and half-yearly subscription, the amount being based on the member's rental value of his/her property/land.  And each member belonged to a 'class' depending on that rental value.  The subscription was decided at the half yearly meetings and the member would pay an amount in proportion to that rental value/class to which he/she belonged (there were a few female members).  The income received would be used to defray the expenses of the Society in accordance to a resolution agreed on at each half-yearly meeting. There were up to 14 classes to which a member might belonged – the only member in class 14 being Lord de Lisle.
In the Account Book of the Society are the names of the members and in effect their position and wealth in Leigh society.  For the year 1850 members are listed within their 'class' and the rental value for that class:  the higher the rental/class the higher the subscription paid.  It is an insight into Leigh's well-to-do citizens in the middle of the 19th century, with some very familiar names which appear in other village documents, such as the Vestry Minutes and Poll Books.
List of Members according to Rentals 1850
1st Class – (rental) not exceeding £50
Richard Best
J Crandall
Richard Crandall
Mary Fuller
Richard Gasson
C F Gregory
R Humphrey
Francis Marchant
Ann Martin
Rev. T May
Miss May
Edward Young
Thomas Birch
2nd Class – not exceeding £100
H J Comb
Wm Bassett
George Hilder
Abraham Legg
Richard Nye
Thomas Turley
Willm Usher
John Wells
Samuel Cartwright
3rd Class not exceeding £150
T F Baily
James Bellingham
James Counchman
S B Johnson
S U Peene
John Potter
James Searle
F Whitaker
Wm Willsher
Ludford Docker
4th class not exceeding £200
Thomas Redman
Robert Head
5th Class not exceeding £250
W F Burton
Thomas Poynder
James Usherwood
6th Class  not exceeding £300
John Beckett
8th Class not exceeding £450
William Hilder (cross through with words now 2nd class)
14th Class not exceeding £700
Lord de Lisle
The subscription tended to vary from 1/- to 4/- per half year and would increase according to your membership 'class'.  The basic subscription, however, was dependent on the expenses incurred during the period.  Arrears are listed in the Account Book for those who failed to attend a meeting.
System of Rewards and other Expenses
The Society agreed its own rules which included the size of the rewards to be paid for the apprehension and conviction of an offender.   In 1840 the biggest reward paid – £20 – was for the apprehension of an arsonist; the capture of a murderer warranted a reward of £10.
We have the record of a meeting of 11 November 1840 which was called:
for the purpose of taking into consideration and reporting to the members at their next half yearly meeting such alterations as may to them seem advisable to make in the several rewards now offered by the Society, with a view to them more equalizing the same.  And we the undersigned, composing the said committee having examined, considered, and compared such several rewards, do hereby recommend that the following alterations and reductions be made accordingly and that the List thereof for the depredations and offences as therein mentioned do stand thus:
 Reward                                     Present Amount
Maliciously burning property £20                   stand as before £20
Killing or maiming   £10  for killing or wounding, with intent to kill £10.   Add maliciously maiming or wounding any cattle  £5 carried
Burglary or Highway Robbery    £10                   stand as before £10
Damaging hop-bines  £5                    to stand as before
Horse or cattle stealing              £10                   stand as before £10
Receiving stolen goods  £10                   of the value of £2          –  £10.       Under the value of £2     –  £5   carried
Stealing corn severed               £10                   to be reduced to  £2  carried
Stealing  value of 5/-        £5     stand as in Bill, with the addition of the words barn oast house or other enclosed building £5
Obtaining goods by false pretence   £5               stand  as before £5
Threatening letter to prosecute any member £5  stand as before  £5 word pillory to be erased
Threatening to kill any member or burn property  £5   stand as before £5
Taking money not to prosecute for felony £5       stand as before  £5
On Conviction of an Accessory £5                    for burglary  £5       For larceny  £2  carried
Stealing any poultry                   £5                     stand as before £5  carried
Damaging property above 12 pence  £2  stand as before £2
Removing any fence                  £2                     stand as before £2
Stealing any property under 12 pence £1              stand as before £1
Damaging corn or vegetables growing  £1            stand as before  £1
Damaging any hop pole fagot or other wood £1  stand as before  £1
Robbing any orchard or cutting wood £1  stand as before  £1
Stealing sack, poke or bin cloth £1                    stand as before £1
Additional clause:
Any person or persons for giving or administering any drug or drugs or other ingredients to any horse of other cattle   £ 2   carried. 
 Signed by Chairman and members present
Abraham Legg Chairman
Charles Gregory
John Searle
Jas Couchman
W Bellingham
J Crandall
W Medhurst
Robt Humphrey
Both expenses are paid to members and rewards given for apprehension of suspects.  In the Accounts Book we have the payment of one year's salary to R Humphrey as the Society secretary, payments for printing reward bills and for postage.  Then there are the expenses incurred in apprehending offenders, the rewards paid for information, the expenses paid to Constables and for attorney bills.
The printed copy of a meeting held at Porcupine, Leigh, 9 May 1853 states that in pursuance of a resolution passed at the General half-yearly meeting of the members of the Leigh Prosecuting Society holden on 20th day of April last appointing a Committee of Eleven Members, consisting of Messrs CF Gregory, S U Peene, L. Docker, R. Head, S. B. Johnson, J. Searle, J. Usherwood, A. Legg, T. R. Russell, J. Crandall and J. Bellingham to consider and revise the present rules of the society and report thereon to a General Meeting of the Members to be convened to receive the same.
The meeting made the following resolutions – which have been summarized – the full copy is in the archives:
to recommend certain alternations in the amount of Rewards
the power of offering rewards to be vested in the hands of the Committee of Management for time being
payment of rewards to be made at next half-yearly meeting after conviction to such person/s as majority of members present decide
the Society to be responsible only for one reward, one act of depredation, whether the property whereon the said depredation was committed belong to one or 

more members and whether committed by one or more offenders;

One moiety only of any reward offered to be paid for conviction of juvenile offender (i.e. under age of 14) or insane person being offender of whatever age.
the Society not to be liable for payment of reward search prosecution of offender/s of any felony or depredation, committed on any property of any member, which property is not included and classed in the rental of any member.
All reasonable costs and charges on any member in bringing offender to justice, etc. be reimbursed.
That bills be printed for use of members on their premises setting forth rewards etc.
Signed
CF Gregory Chairman
Abraham Legg
SB Johnson
R Head
James Usherwood
Samuel U Peene
Robert Humphrey sec.
The above Resolutions were carried at the General Meeting.
The following are the types of Reward Posters that were issued by the Leigh Prosecuting Society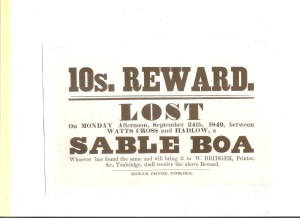 Offences committed (and Rewards paid)
The Account Book lists some of the crimes committed and names the offenders.  At first glance, and being familiar with some of the names, it would appear that many listed as committing offences appear to come from the poorer sections of Leigh society, but not all.  Further research is needed on the named offenders and comparison with the census to be able to determine who they were and their position in Leigh society, but it would appear that the Account Book is not only a source of names of the wealthier in Leigh society but also those less fortunate and who came face to face with the law – often for relatively minor offences.
The most serious offence which is mentioned in the Account book is that of sheep stealing.  There are two incidences noted, both of which resulted in transportation.
In 1841 a John Crowhurst[v] was transported to Australia for 15 years for stealing sheep from Mr William Hilder and in 1847 a W Cherriman[vi] was apprehended by R Crandell and T Russell for sheep stealing, again from Mr Hilder, and was convicted to 10 years transportation.  (Mr Hilder appears quite frequently in the accounts as being a victim of crime, it is no wonder he was willing to be a member of the Society).
Other crimes listed in the records are stealing apples, stealing wood, killing of a calf, stealing chickens and geese, stealing turnips, destroying fences, and expenses are also paid for the search for a missing horse.  A few examples are given here:
1838: bills paid for the apprehension and conviction of Wm and Jas Hanmore  (£2.15.9 paid to W. Winter for Sir J S Sidney, for constable and attorney).
1840: reward of £5 paid for giving information and evidence and assistance in apprehending and convicting one David Moss for stealing geese of Mr R Crandall, a member of this society.
1840:  reward for S Lidlow for detecting James Bishop destroying a fence.
1840:  reward to W Wheatley for giving information for apprehension of W. Pound.
1841:  Mr W Smith expenses in prosecuting Elizth Sale for destroying fence.  And reward to Thos Bowra for detecting the said Elizth Sales in said offence.
1841: Wm Woolley's expenses on convicting George Betts for stealing turnips:  Reward to James Cooper for detecting the said G. Betts.
In the Leigh Prosecuting Society file, there is a typed note listing some further rewards:
18 Oct 1848 a reward of £2 was voted to Mr R Crandall for information against W. Marchant for stealing a mattock of the property of Mr Fuller on conviction of the offender.
1852: Mr Richard Crandall, Constable, claimed a reward of £20 for the apprehension and conviction of William Maynard for setting fire to Mr Peene's barn on Thursday 23 day of December 1852 when he Mr R Crandall stated that he went to Mr Peene's on the afternoon of Friday 24 December 1852 to investigate the cause and origin of the said fire. Mr Peene informed him that the said William Maynard was seen near the spot a short time previous to the occurrence of the fire breaking out.  He was also informed on questioning Mr Peene's Waggoner that said Waggoner also saw the said William Maynard near the said barn at time of the discovery of the said Fire, that from the contradictory statement of the said William Maynard to the said R Crandall as to his not having been near as stated by Mr Peene and his Waggoner that he apprehended the said William Maynard on the said charge and that he the said William Maynard was subsequently convicted on his own confession of the same.
It was unanimously resolved that in consequent of foregoing statement of Mr. R Crandall that he the said R Crandall was held entitled to the said reward and that an assessment of 6/- on the first £50 rental and the additional 3/- on each successive £50 rental be forthwith made for the payment of the said Reward accordingly.
At a half yearly meeting holden on 23 day of April 1856, it was agreed to pay Thomas Shockridge Constable for the apprehension of Francis Hodge as reward 10/-.
It was at this 1856 meeting that the Society was dissolved.    With Counties now required to form their own local police forces, the role of the Leigh Prosecuting Society became obsolete.
Joyce Field (January 2016)
________
Sources:
Ancestral Trails:  Mark Herber
Miscellaneous Notes from Frank Hawkins
Leigh Prosecuting Society Account Book and miscellaneous papers (Leigh Archives)
Ancestry.com for Censuses, Criminal Registers, Convict Musters, Register of Hulks
Notes:
[i] The Kent Archives at Maidstone also holds some of the Society's its records from 1846-1856.
[ii] According to Frank Hawkins, the actual deed by which the society was formed is in the Tunbridge Wells museum
[iii] A typed note in the file of the Leigh Prosecuting Society states 'That the present society be dissolved on the 23 day of April 1856 agreed on by members present'.
[iv] 1834 Poor Law Act did away with outdoor relief paid from the poor rates to those in need: now the able-bodied, no longer given outdoor relief, were admitted to a workhouse (which people wished to avoid), being victims of unemployment rather than wastrels.  The end of the Napoleonic wars also not only affected disbanded soldiers but agrarian communities for which the war had brought prosperity.
[v] Looking at the England and Wales Criminal Registers 1791-1892 as well as convict musters, prison hulk registers, records(via ancestry.com) there is  no John Crowhurst condemned to 15 years transportation in 1840/41 only a John Crowhurst condemned to 14 days imprisonment, but the records do not given abode, but there is a William Crowhurst convicted to 14 years transportation.  See Crime in Leigh in the first half of the 19th century.
[vi] There is a William Cherriman (Cherryman) in the England and Wales Criminal Registers 1791-1892, where he is tried at Maidstone on 2 July 1846, for sheep stealing and given 10 year transportation sentence (as the Account Book detail is always after the trial, so this is listed in 1847).  William Cherriman was 34. Voyage to Australia in 1848. His wife, Sarah (nee Upton m. 1834) is in Leigh with four of their seven children in 1851; in 1861 living with her son, John, but described as a widow: in 1868 she married Joseph Malyan and moved to Hever.