Old Brickmakers
Old Brickmakers is on the west corner of Lower Green with the High Street and was formerly a public house called The Brickmakers Arms. It was built by Henry Fuller in 1841 on land leased from the Penshurst Estate. Henry Fuller was the proprietor of the brickworks and yard at the bottom of Kiln Lane.
In 1921 it was sold as part of the Penshurst Estate properties in Leigh – it is described in the Sales Particulars (p.21) as "the well-known and fully licensed beershop" known as 'The Brickmakers' Arms'.  It extended to an area of 25 perches.  A the time of the sale is was let with other lands to Mr Lawrence Coomber on a yearly (25 March) tenancy.  In the description it says "the housse is of brick, weather-tiled, and tiled, and contains: four bedrooms, bar parlour, bar, tap room, scullery, two cellars, kitchen and sitting room.  Old Shop and two WC's.  Company's gas and water laid on.  Good garden.
Although it has been a private residence since 1950, the bricked up entrance to the cellars can be seen above the pavement on Lower Green. The pub entrance was on the High Street. At times beer was served from kegs on trestle tables outside the original front door so that men from the brick works could get a beer at lunch time. The house has unusual oval chimney stacks.
Between the two World Wars the pub was run by Mr.Roots. At that time there was sawdust on the floor and spittoons containing sawdust in one of the two bars. The pub was a beer house only, with no licence for spirits. There was a hall in the garden which was used for dances and where teas were served and enjoyed by boys from Tonbridge School. The only food served was bread and cheese and pickles.
Both the Brickmakers Arms and the Fleur de Lis were owned by Fremlins who, perhaps not unreasonbly, decided to close one of them. The Leigh British Legion was officially formed in 1946 in the bar of the Brickmakers Arms.
Below is a further picture from a postcard, date about 1920.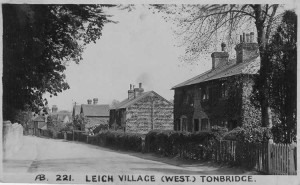 Penshurst Road from the four charity cottages (now the site of Saxby Wood) – then the two cottages known as Engineers Cottages (today Engineers Cottage and Sandelwood) to the Brickmakers Arms and beyond. Postcard postmarked 1915
Updated November 2018  by Joyce Field