Charcott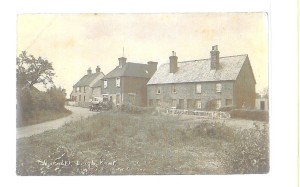 The above copy postcard was sent to the Leigh Historical Society in 2012 by a descendant of the James and Elizabeth King.  Elizabeth King (a widow) lived  in one of these cottages ca 1881 – 1900.  There is no date for the postcard but early part of 1900s.
In 1871 the beerhouse keeper at Charcott was a widow, Avis Ingram, who lived with her daughter Avis, and granddaughter Ann.  She was still beerhouse keeper in 1881.  Avis had been married to James Ingram a cricket ball maker: however by 1861 she is a widow and running the beershop – the King's Arms – at Causeway.  In 1891 Alice Winter was living at the Greyhound with widow Avis Ingram, her great grandmother: Alice was the daughter of Thomas Winter and Ann (nee Ingram): Ann herself being the daughter of unmarried Avis Ingram – daughter of above mentioned widow Ingram. In 1891 Thomas Winter, his wife Ann, and several other children lived at one of the Charcott cottages. The 1901 census gives the beer house keeper at Charcott as Annie Draper, a wife, aged 38.  Further research shows that Annie Draper – born Annie Hills was the daughter of Harriet Winter and George Hills, Harriet being an aunt of Thomas Winter and so a cousin of Thomas Winter.   The publican of the the Greyhound around 1906 was Edwin Walter Styles (info from Christine Litchfield, descendant of Rosanna Styles and Horace Winter's daughter Vera Winter who married Frederick George Hobbs in 1934) – the 1911 census gives Edwin Styles aged 40 as the beerhouse keeper.  He and his wife Sarah also had a large family, originally from Brenchley.  Their daughter Rosanna Lavinia Styles married Horace Winter, son of Thomas and Ann Winter, brother of Alice Winter.  So the Greyhound – beerhouse – was run by members of the same family from at least 1871 until 1911 at least, if not longer.
Charcott Football Club
From information from Christine Litchfield:
Back row standing – from left to right:  1. Billy Barden; 2. Joe Burchett; 3.  Frederick George Hobbs b. Leigh;  4. Reginald Edwin Winter b. Charcott; 9. Charlie Martin; 10. Frederick Winter b. Charcott: blinded in WW1; 11. Don Grayland senior.
Front row sitting – from left to right: 7. Jack Pocock; 8. Fred Gower.
This picture was apparently taken at the back of the pub.