Park House
PARK HOUSE
Park House has also been known as Park Cottage and Upper Park Cottage:  it is likely that its name was changed in order not to confuse it with Park Cottage (the property today is known as the White House on Church Hill).  It is located next to the PorcupinePorcupine House and was built by Farmer Baily of Hall Place to George Devey's design and has many features typical of his work – a mixture of styles from geometric patterns in blue brickwork, wood beams with lathe and plaster infill, stonework and decorative chimneys. When originally built there was only an outside lavatory and not bathroom.  The house has since been substantially extended.  The date and the Baily leopard are carved on a stone above the small garden gate on to the Church drive – the stone is original although the gateway was knocked down by a falling poplar tree in 1987 and subsequently rebuilt.
In the 1870s Sales Particulars for the Sale of the Hall Place Estate[1], the house is described as having been built in 1864.  The Particulars state that it is "a highly ornamental residence, called Upper Park Cottage – brick, stucco, and tile, part rag stone and half-timbered with gables containing a dining room, drawing room, large studio, 5 bed chamber, water closet, kitchen scullery and & coalhouse,  with good garden, greenhouse & c."   It is given as no. 17 on the plan and at that time was on a plot of 0a 2r 0p.   Additional land was added to the property in 1956.
The Sales Particulars also state that the property was rented by Lawrence Duncan Esq on a lease for 21 years from 29 September 1864, determinable by lessor or lessee at 7 or 14 years at a rent of £50 per annum.  In 1864 Lawrence had married Blanche Ellen Jane Porter at Sevenoaks.   Blanche Ellen Jane Porter was born in St Pancras (where Lawrence was also born).  Following the marriage, the couple lived in Leigh and their two children, Claud and Leslie Gordon Duncan, were born and baptized in Leigh in 1866 and 1868 respectively.  There is further evidence of Lawrence Duncan living at Leigh:  in the 1867 Post Office Directory, Lawrence Duncan is listed as at Upper Park Cottage and also described as an Artist.   He is also listed as an occupier of property in Leigh in various Registers of Electors for Leigh from 1866 to 1871[2].  However, from the 1871 census it appears he is no longer in Leigh – so it is likely he had ended his lease of the property then – shortly before the 7 year term mentioned above – or sub-let it.  By the time of the1874 Kellys Directory for Leigh, there is no mention at all of Upper Park Cottage or of Lawrence Duncan.  By 1881 the family are living in Surrey and Lawrence is described as an artist in water colours.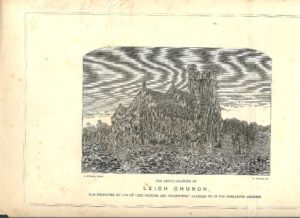 So why was the artist, Lawrence Duncan (1836-1913)[3], living at Upper Park Cottage in Leigh. There is a connection – Lawrence (or Laurence) was the brother of Berthia Duncan who in 1862 at Hampstead had married Charles Foster Gregory Junior (1833-1907)[4], the son of Leigh's doctor, Charles Foster Gregory.  Charles Foster Gregory Junior had trained as a doctor and worked at Leigh with his father for a while, but after his marriage to Berthia he moved to Cowden and became a junior partner to Dr Geere at Edenbridge.  Berthia and Lawrence's father was also an artist – a landscape and marine painter, Edward Duncan.  In 1861 Lawrence is still living with his father and siblings at St Pancras and is described as an artist and figure painter.
It is difficult to determine which property is Upper Park Cottage in the 1871 census as it is not actually named and we can only go by the order of properties as they are listed.  From the properties in the census which start at the Bid Bridge through to Church Hill, there are no unoccupied properties.  The best guess is that the property was occupied by Walter Wood aged 25 and his wife and two children.  His occupation is given as Groom – so perhaps he worked for the Hall Place Estate.
What is clear, however, is that it was let to Dr Moffat in 1881 – his name is given in the census, but we also have other evidence for his residence in Leigh at the time.
Dr Moffat lived at Park Cottage from 1879 until he died in 1883. "It was in 1879 that the venerable missionary took up his abode in the village of Leigh, in a picturesque little house known as Park Cottage, embosomed in shrubs and evergreens"[5].  He was a South African missionary, whose daughter had married David Livingstone.  Dr Moffat was a friend of Samuel Morley  and, therefore, this is probably the reason why he came to live in Leigh.  In a letter by the Rev. Collum of Leigh in Edwin Hodder's book Dr Moffat is described as the revered and venerable African missionary.  'It was most touching to see, as on Friday 21 November 1879, side by side, two such grand old men as Moffat and Morley witnessing the truth and power of those Holy Scriptures which are able to make wise unto salvation"[6].  They both attended annual Bible Society meetings in Leigh.
"On his arrival a warm welcome awaited him from Mr and Mrs Samuel Morley, whose tenant he had become, and their thoughtful attention to the comfort of the grand old hero never wavered from that day until he had "finished his course".  He attended the Chapel regularly every Sunday morning and often in the afternoon and was always glad to help in the services.  It was curious to see, in that remote little village meeting house, two such men as Samuel Morley and Robert Moffat – men whose names were of world-wide reputation".   However, "one day in May 1883, Mr and Mrs Morley being at Hall Place for a day or two, he went up to see them.  He had gone there intending to stay for half an hour, but fully two hours they spent together, and it was the last visit he paid to Hall Place"[7].
A few months later, Dr Moffat was dying.  "He was very pleased to receive a visit from Mr Morley, whom he truly loved, and thanked him warmly for sparing time from his many engagements.  He talked with wonderful vigour of the mysteriousness of Providence, and was evidently clinging to the hope of the restitution of all things but wound up with the words 'It is all a mystery.  Will not the Judge of all the earth do right?'   A few days later Mr Morley stood beside the grave, at Norwood Cemetery, of his friend and neighbour, the great Apostle of South Africa"[8].
From Kellys Directory we know that in 1890/91 John Penn Hartree, MB, MA was living at Upper Park Cottage, although the 1891 census gives Annie George, living on her own means; but she is given as a visitor so perhaps John Hartree is still the main occupier but not there on the night of the census.
By 1899 Leigh doctor, Frank Fraser[9] is occupying Park House, although he had arrived in Leigh earlier and lived at The Limes (Chilling House).  He would occupy Park House until 1934.   Dr Frank Fraser was a well liked doctor in Leigh and very much part of village life who knew everyone in the Parish.  During his time at Park House, an extension was built which provided a surgery as well as a bathroom and two lavatories.  Patients waited in the passage outside the downstairs cloakroom.  After Dr Fraser retired, he was succeeded by Dr Stanley Davison as well as his son, Beaufort Fraser.  Although Dr Frank Fraser left Leigh following his retirement, on his death in 1949 he was buried in the churchyard at Leigh alongside his wife, Constance, who had died in 1928.  His inscription says that he 'practised in Leigh for over 48 years'.
Following the retirement of Dr Fraser, Roger Twitchell and his wife, Helen Gladys Flower (née Sutton) moved to Park House[10], with her two sons, Anthony Lacon de Mallet Flower (b.1911) and Montague Flower (b 1914) – her first husband Captain Leopold Flower had died in the First World War in 1916.  Roger Twitchell and Helen had married in London in 1926.  On first coming to Leigh the Twitchells had lived at Elizabeth Cottage[11] but they are shown as living at Park House from 1934[12] and are listed in the 1935 Leigh Electoral Register and in 1938 Roger Twitchell is listed in Kellys Directory as living at Park House.  They continued to live at Park House until 1954[13].   During the War, Helen Gladys Twitchell looked after the billeting of evacuees from London[14].   On 28 March 1941 Anthony Flower married Margaret M Moon at Pinner Parish Church[15].   Margaret Flower remembers Park House and that there had been two tennis courts – one on the road side of the house and a new one which is the present tennis court.  Anthony Lacon de Mallet Flower had joined the Royal Navy and was killed at Plymouth following a bomb raid on 21 April 1941.  He is named on the Leigh War Memorial. Margaret Flower who joined the WRNS continued to live at Park House with her in-laws[16].
In December 1954, Major Douglas Finlayson and his wife Daphne Estelle (née Whately)[17] purchased Park House from the Hall Place Estate.  The Epitome of Title shows the handing over of Hall Place Estate properties into personal ownership: a Conveyance dated 3 December 1954 shows the transfer of the freehold property known as Park House to a representative of Mrs Finlayson – a Gerald Arthur Whately – and later on 7 May 1956 there is a further conveyance of land 'situate at Leigh adjoining the property known as Park House' to the same name.  Gerald Whately Daphne Finlayson's brother.  Daphne Estelle Finlayson had formerly been in the Women's Royal Naval Service and is shown in the Navy Lists for 1943/1944[18].
 In 1969 Park House was sold to the current owners, Mr and Mrs Christopher Court.
Joyce Field (May 2016)
[1] In Leigh Archives
[2] Leigh Electoral Registers available via Family Search.
[3] See Appendix attached for further information on Lawrence Duncan and Charles Foster Gregory Junior.
[4] See Appendix attached for additional information on Charles F Gregory Junior
[5]The Life of Samuel Morley by Edwin Hodder, p. 388
[6] Ibid p. 381
[7] Ibid p. 389
[8] Ibid p. 390
[9] More information is available on Dr Frank Fraser in the Leigh Archives.  He was already the Doctor in Leigh in 1891.
[10] Date of moving to Park House is not clear but the Leigh Electoral Registers for 1935 show the Twitchell family as living there.
[11] British Phone Books 1880-1984 via Ancestry.com: for 1932 and 1933 show Roger Twitchell at Elizabeth Cottage (in 1931 he is shown as living at Farnborough).  In 1934 they are shown as living at Park House and continue to be there until 1954.
[12] Ibid. 1934
[13] Ibid.  1954
[14] "We Had Everything" p. 176:  memories of Dorothy Pankhurst (later Mrs Dorothy Goodwin)
[15] See Leigh Historical Society website under War Memorial
[16] Leigh website: War Memorial
[17] Major Ian Douglas MacArthur Finlayson married 23 November 1946 at London (Andrews Newspaper Index via ancestry.com: also 1946 Civil Registration Indexes).
[18] Via Ancestry.com.
Sources:
Life of Samuel Morley, Edwin Hodder
Lawrence Biddle:  Leigh in Kent 1550-1900
1870 Sales Particulars of the Hall Place Estate
Various Censuses 1841-1911 and Civil Registration Indexes
Leigh Baptismal Index
Epitome of Title document: conveyances of Hall Place Estate properties into private ownership
Various Historical/Trade Directories viewable at Ancestry.com
Extracts from Electoral Registers for Leigh via Family Search.
Websites: Findmypast and Ancestry.com
Additional information supplied by Janet Court of Park House
Various notes on Leigh doctors are held in Leigh Archives
APPENDIX TO THE TEXT
LAWRENCE (Laurence) DUNCAN 1836-1913
Born St Pancras ca 1836, died 1913.  He is described as an artist and figure painter and also a water colour artist.  He was the son of Edward Duncan b 1806 St Pancras:  landscape and marine artist.
For Laurence/Lawrence Duncan 1836-1913 British Artist see various Auction websites.  Some of his paintings listed on these websites are (unfortunately none found of Leigh):
"At Mullion Cover, Cornwall" – watercolour, signed, also title and signed on reverse
"A Steamship at Sea" – unframed, signed on mount;
"The Toy Yacht" – signed L. Duncan 1867 watercolour
"Pawnbroker" – initially oil on canvas:
"The Young Shipwright"
1881 Census (Thames Ditton, Surrey):
Laurence Duncan mar   45 artist in water colours  b. London St Pancras
Blanche E J                    35                                             "
Claud Duncan               14 scholar b. Leigh Kent  b. 1867   bap 8 June 1866, Leigh
Leslie Duncan               12 scholar b. Leigh Kent  b. 1865  bap 12 Aug 1868, Leigh    (Leslie Gordon Duncan)
Marriage:  Laurence Duncan and Blanche Ellen Jane Porter at Sevenoaks Jan-Mar 1864
Laurence Duncan:  died St Albans in 1913  (Civil Reg. Index)
Blanche Duncan:  died 1907 St Albans  (Civil Reg. Index)
Lawrence Duncan and the Gregory family of Leigh:
The following is taken from Doctors in Leigh notes by Chris Rowley.
Charles Foster Gregory Jr: b. ca 1833, died  1 Aug 1907 aged 74 (wife Berthia), Will probate 4 Oct 1907, effects of £45.00..  1861 at Leigh with parents, aged 28 given as Member of Royal College Surgeons and L.S.A.  1871:  3 children when GP at Edenbridge "Medical Profession, Gen Practitioner, Member of the Royal Coll. Of Surgeons, Licenciate of Society of Apoths.  1901 census still at Edenbridge.   (Medical Registers: registered 1 Jan 1859)
Charles Foster Gregory Jr had been born at 'the Limes' almost certainly in the autumn of 1832.   We do not know if he went to the National School at Leigh; or another school; or was even educated at home by his parents, possibly with some kind of tutor.  (He did not go to Tonbridge School as was the case with a number of others who became local doctors).
However, on 6 January 1847, when he was about fifteen, he joined his father's practice as an apprentice.  Whatever the father/son relationship was like (and it was probably good), he would certainly have taken some of the pressure off his father – and his mother – making up and delivering medicines, answering the door and doing the many jobs that apprentices learnt to do in what was their normally their five years of training.
So by the time Charles junior finished his apprenticeship and left Leigh for Guy's Medical School in 1851, he would have spent the first eighteen or nineteen years in the village and would have known and been known by virtually everyone in the parish.
He spent the next year and a half in London, following his father's footsteps at Guy's Hospital.  We have a list of the lectures that he attended and his teachers; and, as with his father, the doctors at Guy's at the time were amongst the best in the country and the subjects he studied the most up-to-date.   For some reason he did not attend his first interview/exam for his LSA in May 1854 and when he did attend a week later he was failed.  Unbelievably, in January the next year, he again did not attend the exam but a week later he actually sat the exam – and passed.  Perhaps even more strangely, 'The Medical Directory' which gave the names of all practising doctors, their qualifications and when qualified lists, Dr Charles Gregory Junior is shown as having received his LSA on 17 April 1847.  As the information in the Directory was provided by the doctors themselves, Charles junior has managed to get his LSA when he was actually just starting his apprenticeship – almost certainly an oversight, rather than an attempt to defraud – but woolly nonetheless.
When he did obtain his Licence from the Society of Apothecaries in 1855, he was considered a fully qualified doctor.
He seems to have joined his father's practice for some years – probably about six years as he appears in the 1861 census at Leigh.  However, in June 1862, now aged thirty, he married Berthia Duncan – aged twenty – at Hampstead, London.  She was the daughter of the landscape and marine painter, Edward Duncan.  One imagines that with a new wife, Charles Junior was keen to leave the family home where he had lived all his life and to start his own family, with his own house and within a new practice.  He is next found as a junior partner to Dr Geere, the main doctor in Edenbridge; and in 1862 he has his own house in Cowden where his first two children, Duncan and Foster, were born, although baptized at Leigh.  By 1871 he and his family are living in the High Street at Edenbridge and Charles and Berthia's next six children are born there.
Almost certainly, Charles Gregory Senior his father would have known Dr Geere – who was the Edenbridge District Poor Law Union doctor; and his mother, Martha, came from a respectable Edenbridge family in any case.
Dr Gregory Junior therefore passes out of the Leigh story.  Suffice it to say, that in the spring of 1868, when 'young' Charles was 35, there is a letter in the Minutes of the Guardians for the Sevenoaks Union from Dr Geere asking that his partner, Dr Charles Gregory (junior) be allowed to succeed him.  The Guardians agreed to the proposal.  So for a period of a year both father and son were Poor Law doctors in adjoining Union districts.  They must have had a good number of things to discuss.   Although Charles Junior had six sons, it appears that none of them became doctors (and none were actually called Charles Foster Gregory).